Care Home, Benson, Oxfordshire – Situated in the heart of Oxfordshire
A purpose-built luxury care home in Benson near Wallingford providing residents with high-quality nursing, residential and dementia care on a permanent and short-stay basis. This new build Care Home provided K&S with the opportunity to install Sika Trocal single-ply flat roofing systems and pitched slate roofing.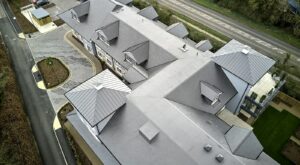 The apex roof areas have Trocal SGK fully adhered slate grey PVC single-ply membrane installed with a PVC standing seam effect profile laid at 500mm centres, this system offers a quick, clean installation and excellent finish.
The central flat roof area has Trocal S mechanically fixed slate grey single ply membrane installed and works well with the contrasting pitched slate roof surrounding it.
K&S also installed Trocal SGMA membrane systems to all of the terraces and balconies, these were then slabbed with Marshall Saxon textured natural paving on adjustable support pads.
With a proven track record, and designed with an efficient installation process in mind, Sika-Trocal single ply roofing systems combine long-term performance, fast application, and unrivalled freedom of design, which makes it ideal for virtually any roof application. All of the Trocal systems installed come complete with a 20-year Sika Trocal membrane manufacturers guarantee.
K&S installed SIGA 39 1stmix natural slates to the pitched roof areas, these were installed to 50 x 25mm treated timber battens on a breathable felt underlay.  As you will see from the photos, there are numerous dormer projections, making this a detailed installation with a real eye-catching finish.
Below are some fantastic drone shots of this Prestigious 70 Bed Care Home, Benson House, Benson which was completed on behalf of Caring Homes Group. Thanks to Sika Trocal Ltd for the great photos!
At K&S, we are always on hand to offer practical and experienced support. If you would like to speak to us directly please call 01444 257912.